PRODUCT DESCRIPTION
This cup is specially designed for auto mixing coffee,milk,tea etc. What you have to do is just press the button on the handle,
and it automatically stir it for you. It is for both office and home use.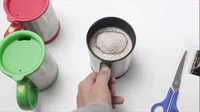 FEATURES
Easy and convenient to use
6 Color option for you
High quality motor, you don't listen the sound when it works
Strong power
Mixing of liquid is evenly 
Eco-friendly and healthy
NOTE
Do not clean the battery area
You can clean the mug properly, HAND WASH ONLY 
Not for microwave or dishwasher material
Befor using clean it every time.